Dryers Sales in Tampa, FL
---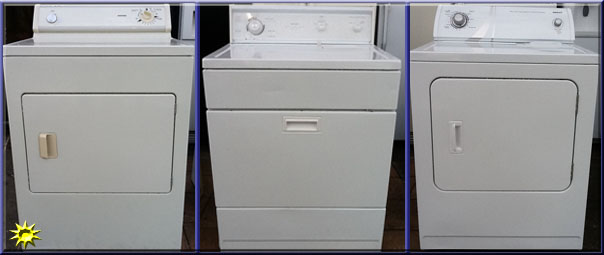 *Dryers in image are typical of the ever changing inventory at Tampa Used Appliances, but are meant to be viewed as only a sample of what is typical.*
---
Amana, Frigidaire, GE, Kenmore, LG, Maytag, Whirlpool, these are only a sample of the top names in dryers that you will find here at Tampa Appliances. The on-site technicians here use their years of experience to thoroughly clean and service all of the clothing dryers that pass from us to you, the consumer, and we do it at a price that won't hurt the wallet. Our dedication to serving you does not
stop there, with every purchase we provide a guarantee in the form of a thirty (30) day warranty
(parts and labor included) and offer an extended one year warranty for purchase.
Now use the link below to browse some of the current inventory in our clothes dryer section and then call or come down ASAP to reserve and purchase the best deal for your needs.
And yes, we DO deliver!